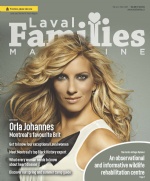 In The Latest Issue:
Latest Issue:
Rabbids Amusement Centre...
Maximizing Children's Po...
Special Needs Camp: A Fu...
New Year, New Attitude!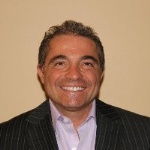 BY:
Luigi Morabito
Issue 26
With the new year now underway and the hustle and bustle of the holiday season behind us, this time of year now affords a few more moments of peace to look up and appreciate our surroundings, especially with a heavy blanket of the white stuff all around.

You can often find me hiking or snowshoeing with my dogs in and around Laval, in Bois de Papineau, Bois de l'Équerre and Bois de St-Dorothée, to name a few. The scenery is breathtaking, and it's important to make time for fresh air and exercise during our long winter season.

Along with the new year usually comes new resolutions, new perspectives and hopefully new attitudes. In light of March being International Women's Month, we couldn't have chosen a better front cover personality to grace our pages than Catherine Verdon-Diamond, a Laval resident who is also the news and traffic reporter at Breakfast Television Montreal. A mom of two young boys, Verdon-Diamond is our cover story on page 8, for good reason! Not only is she an extraordinarily interesting woman with a life story that rivals your average blockbuster movie, but she is also a victim of sexual assault, which she bravely revealed through social media last October.

In her Mom Talk segment Thursday mornings on Breakfast Television, Verdon-Diamond chats with guests from all walks of life about issues surrounding motherhood and contemporary parenting challenges. In this issue, Verdon-Diamond brings her Mom Talk content to print in our magazine on page 20, discussing her experiences with sexual assault, how and why she finally came forward, and what families can be doing better to educate our youth.

With educating and inspiring youth in mind, we also want to highlight the amazing initiatives happening in Laval with TEDxLaval, and the first ever TEDxYouth@Laval, both happening this spring. Be sure to read all about how Gildo Conte, local franchise owner, started the TedxLaval event three years ago, and about what opportunities he would now like to offer for local youth.

Always playing a role in our youth is our teaching community, those men and women who spend countless hours over the course of the school year teaching our children and guiding them to reach their potential as learners and as citizens of this world. Our 3rd Annual Teacher Appreciation Contest is now underway, and this year, it's even bigger and better than before. There are over $10 000 in prizes to be won, and you, dear readers, can help us celebrate and appreciate our educators by voting for a deserving teacher. Find out more on page 67.

As a lover of sports and of fitness-related activities in general, this issue I am happy to introduce our readers to a new major player on the fitness scene, Extreme Evolution in Laval. The impressive facility has everything you could imagine the ultimate gym to have, including a section just for women! Both male and female patrons will find everything they need here, from high quality equipment to a passionate team of trainers and medical professionals. As they say, summer bodies are made in the winter…

Speaking of summer, have you given any thought yet to the all-important question of what to do with the kids this summer? Whether you're in need of a summer day camp, sleepaway camp or some fresh ideas for your summer family getaway, be sure to make a beeline for the Summer Camps, Activities and Family Vacation Expo happening on February 11th! Laval Families Magazine is the host of this brand new local event, and our official spokesman is none other than our cover story personality, Catherine Verdon-Diamond! Get all the details on page 56. As always, we like to provide our readers with valuable food for thought when it comes to selecting the right camp for your child, so be sure to check out our Spring & Summer Camps section beginning on page 50.

But what if you just need a getaway destination close to home? Consider Sheraton Laval with its fitness center open 24 hours a day, its urban Amerispa, the indoor pool, delicious meals prepared by Chef Éric Robidoux, along with excellent customer service. You'll never want to go home! Whether it's for a family getaway, a conference or a special event, Sheraton Laval is the place to be. Find out more on page 24, and then pack a suitcase!

Here's wishing you plenty of outdoor fun in and around the city this winter, and for those frigid days when you just want to stay indoors, don't forget that Laval has plenty of indoor fun for the whole family too—hot chocolate is optional, but highly recommended!