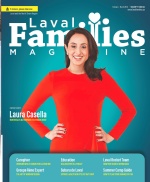 In The Latest Issue:
Latest Issue:
2020 Has Only Just Begun
Laura Casella on Pursuin...
How to Deal with Head Li...
Interview with Bruny Surin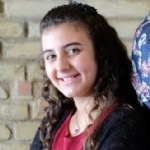 BY:
Allysson Furtado
Issue 28
Our Young Authors Contest winner for this issue is Allysson Furtado, a grade 5 student at John F. Kennedy Elementary School. Allysson had the opportunity to meet with renown Olympic medalist Bruny Surin, for a one-on-one interview.

Q: You were eight years old when you came to Canada. What was it like coming to a country that is so different from your own?
A: It was tough. I remember I came in the winter, on January 5th, 1975. It was very cold. Till this day I don't like the cold.

Q: At what age did you start getting interested in becoming an athlete?
A: At age 17-18 years old…I always played sports when I was young. My favorite sport when I was really young was soccer. My favourite class in school was physical education. One time I remember when I was 17, I was watching TV and I saw an athlete win four gold medals in track and field, and that inspired me to become an athlete just like him. That athlete was Carl Lewis…he became my idol and my goal was to be faster than him.

Q: How did you feel after you won your first medal?
A: The first medal was in 1993 for indoor track and field in Toronto. My family and friends were there. On the podium I was shaking and nervous and I was thinking, here I am, from a poor, small country like Haiti, winning a gold medal. I remembered my mom telling me, in Canada you have all the opportunities and with hard work you can accomplish anything, and make dreams come true. It was at this moment that I realized with perseverance I can achieve anything, and I increased my confidence. At all my conferences, I especially tell all the kids to work hard; anything you want, you can achieve.

Q: In 2000 you suffered a leg injury. Did you think that your career would be over?
A: At that time, it was very scary. I thought it would be my last Olympics. It was a very painful injury. I did therapy. After 6 months, I was better, and I performed for another two years after that.

Q: Did you always want to be a runner?
A: I wanted to become a runner after seeing Carl Lewis in the 1984 Olympics. Before that, I was playing basketball. I was always playing basketball with my friends.

Q: Did your parents encourage you [to become an athlete]?
A: At first no, especially my mom. She wanted me to focus on school. After four years, she saw how serious I was, that this is what I wanted to do. This was my dream. She was then open to it. It took a while, but now she is a big fan.

Q: Do you have any regrets, such as things you could have done instead of running?
A: No regrets. I remember when I was in high school, I was thinking of becoming a doctor, and even an architect. But after I did sports, I chose to pursue track and field.

Q: Before your injury, did you ever want to have a little break from running?
A: No break; I never wanted to have a break. My goal was to become faster than my idol…until I could achieve this, I wouldn't stop. Many times, I had injuries, but this wouldn't stop me from achieving my goal. I would train harder. No thoughts to ever stop.

Q: Are you proud of what you have accomplished so far?
A: Yes, very proud. It wasn't easy. I had a lot of times when I couldn't get into competition, and many times people were laughing at me thinking I would never make it, never succeed, never be an Olympian and never win medals. In my mind, I told myself, these are obstacles.

Q: What did it mean to you to receive your Knight title from the National Order of Quebec?
A: Very special. When I win a medal for Canada, I always remember what my mom told me. Work hard, don't cheat, life has no short cuts…sometimes dreams take time but perseverance pays off. I repeat this to my daughters and at school conferences. Perseverance is key.

Q: Would you encourage your daughters to follow in your path?
A: I always encourage my kids to do sports since they were five years old. Physical activity is good for health. My daughters wanted to pursue tennis. Their dream was to be an Olympic tennis player and as their father I will encourage them and support them.

Q: Why did you decide to write a book, and why did you call it Le Lion Tranquille?
A: Lion Tranquille [The Quiet Lion], reminds me of the preparation for the 100-meter race. It's a very tough physiological event; everyone wants to win, there is a lot of intimidation. I never did that. I always prepare myself and talk to my coach. I stay in my corner and talk to no one. Once the race is ready, then I am a lion. That's where I got the name Lion Tranquille. I wrote the book because I want to encourage those who were in the same situation. I had no money then, and 95% of the people were laughing at me. So, I want my book to encourage everyone in the same situation as I was.

Q: You have had some breakdowns, disappointments and heartbreaks in your life so far. How did you face those challenges?
A: I always tell people what my coach used to tell me. When you have those challenges, just take a step back. There is always a reason behind the failures and now you have to resolve it. Sometimes you have to analyze what happened and make sure you find the reason, and make sure it doesn't happen again. I remember an Olympic tryout when I didn't even make it to the final. I was with my coach, who didn't understand. My wife was crying; everyone was sad. I decided to look at the race tapes and try to find out what happened. I realized I was racing for everyone else but not for me. I was doing it for my friends, my family, my country, but not for me. Since I realized this, I do it for me first and have fun. Once I did this, my performance went high.

Q: Would you like to share anything about the earthquake in Haiti in 2010 and how it impacted you?
A: I remember this very well. When it happened, I was doing a conference in Ottawa. I was in the car and I heard about the earthquake in Haiti. I called my dad who confirmed to me that it was real. I couldn't believe it. We tried to get a hold of family and friends that we have there. Fortunately, all of our friends were okay. We decided to raise money to help the people who were not as fortunate. It felt very powerful to help so many people.

Q: What is next in your life?
A: Other dreams…I'm interested in real estate. I became interested in this about two years ago, and this year I started to explore it more.