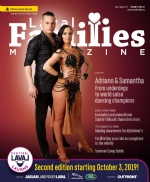 In The Latest Issue:
Latest Issue:
Another Exciting Summer ...
One Step at a Time
The Second Edition of Fe...
Singing to the Top: The Rise of a Local Star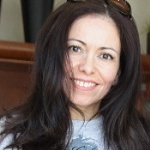 BY:
Claudia Del Balso
Issue 8
American poet, Maya Angela said, "I believe that every person is born with talent." Well, that is the case for local singer and upcoming star, Ms. Amanda Rowland. She believes she inherited her great voice from her mom, who is a singer and used to sing a lot while she was pregnant with Amanda. She told me she's been singing before she could even speak. Singing is second nature to Amanda. When I asked her what she feels when she sings, she replied, "When I sing I feel amazing! I feel like I can express myself. It's one of the only things in life that makes me happy; when I sing everything changes."

Amanda grew up singing Country music, singing along to the Rolling Stones, Led Zeppelin, AC/DC, Mariah Carey, Whitney Houston, and Christina Aguilera to name a few. Her talent goes beyond that since she's also able to sing opera. She sings in six languages and laughed when she admitted that she doesn't know what she's saying when she's singing in these languages ―that doesn't include English or French since she's bilingual.

Although Amanda does not read musical notes or play any instruments her innate musical talent allows her to write her own lyrics and be a constant melody player. She said that she cannot physically play an instrument but her mind and her vocal box are her instruments. Writing her own lyrics also gives her an opportunity to convey her uniqueness and a good message that a lot of youngsters need to hear nowadays. However, this does not mean her music is appealing only to a young audience. Amanda said, "It's a gift given to me by God. I certainly do know there are certain things and morals that I'd like to convey to people when I sing, otherwise I'm just like every other artist and that doesn't make me unique." She wants her audience ―anybody who can relate to emotions― to delve into her soul.
Slowly but surely Amanda is paving her way to a musical career. She came in second throughout Canada with her first recorded song, "From the Heart" when she competed on YTV's The Next Star. She also did the cover for Ariana Grande, "The Way". Although it was Amanda's idea to do the cover, she would like to work on her own songs and portray who she is. "No matter how many covers I can do it's not the same when you're sitting there writing a song, and it's your melody and it's all original material," she added. When I interviewed Amanda in November, she was working on a Christmas EP. She was working with a lot of Quebec composers and artists that are constantly trying to fill her repertoire. Her singing talent also took her to downtown Toronto where she sang for the Blue Jays at a game at the Rogers Stadium in front of 25,000 people. She also spent some time with the cast of Canadian Idol, and Theo Tams, who was the sixth season winner.

Many Canadians singers have found fame outside of their country, Amanda shares the same sentiment. "I love Canada. I was born and raised here, but musically, if you want to get into the big shoes and really start upping your game you have to move to the US or the UK. I can understand why some artists choose not but that's not my goal. I'd love to go internationally," she reiterated.

Canadian Idol, The Voice, and American Idol have launched the career of some hopeful singers. However, once these young artists reached stardom, they amalgamate in the throng of starlets in Hollywood and elsewhere. I asked Amanda if she would still be a down-to-earth girl despite stardom and her resolute "yes" was answered without hesitation. "I know money does change people but that goes against everything that I am," she said.

Amanda is not only concentrating on her music career but also on how to use her talent and fame to help others. She told me that she has seen things that have made her realize how the world works. Music is kind of a gateway to help people understand. A big influence for her was the Beatles. She shared that, "One of the events that I wanted to create was called Beat Abuse which is going to be a fundraiser that I hope to do in April or May in Montreal, get a big artist stand and have a huge event, and it's music fighting for the abused children, so you give back to the people, intervention of prevention of abuse."

Talking to Amanda one can realize that she's a driven girl, striving to make it in this competitive industry. Nevertheless, her altruism is also a driving force. "Being a musician is my ultimate goal. As a person, my goal is finding ultimate enlightenment. What that means in a nutshell is striving every day to become a better version of myself, and hopefully, becoming happy," she said.

To finalize the interview, I gave Amanda the opportunity to express or add anything her fans would like to know about her. Her reply was simple, yet professional, "I just want to say if there's any opportunity to sing at weddings, concerts, or any events, please contact me. I have a Facebook page. I have some developments that are coming along with investments because I can't do this on my own. You can check me out on YouTube under Amanda Rowland."