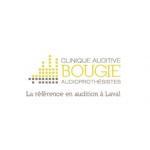 Clinique Auditive Bougie
LOCATION:
3030, boulevard Le Carrefour, bureau 403
,
Laval
(
QC
) ,
Canada
H7T 2P5
MAP
ABOUT:
Since 1984, our team, known for being the reference in hearing in Laval, has been listening to you and offering you complete and personalized support to simplify your hearing aid procedures.Contact us now to schedule an appointment with one of our experienced audiologists. It will provide you with complete, fast and effective support to simplify your care. We will find together the hearing aid that best suits your needs and your budget.

The clinic is located at the Carrefour médical in Laval where there are several health professionals including an ENT clinic and an audiology clinic. This proximity facilitates access to high quality complementary services.

Our team works with a large number of ENT, audiologists and speech therapists located in the Laval, Montreal, Lanaudière and Laurentian regions. We will be pleased to refer you to the specialist in our network who will suit you best.