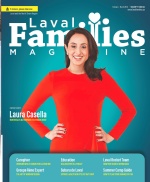 In The Latest Issue:
Latest Issue:
2020 Has Only Just Begun
Laura Casella on Pursuin...
How to Deal with Head Li...
Q & A with Brandon Mig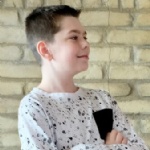 BY:
Tyler Davis
Issue 29
Our Young Authors Contest winner for this issue is Tyler Davis, a grade 6 student from Crestview Elementary School. Tyler had the opportunity to meet Brandon Mig, a singer-songwriter with a hit single on the radio, for a one-on-one interview.

Q: Where did you grow up, and what was it like?
A: I grew up in Laval, Quebec. I went to a high school in Laval now called Laval Junior/Senior. I grew up playing video games and music. Those were the two things I really enjoyed doing, especially with my friends. I remember in school I was even able to get my Principal to get me out of class to play music. We used to prepare music for charity events, fundraisers and the Terry Fox walk. I was always very involved in extracurricular activities.

Q: What was your favorite type of music growing up?
A: So, when I was young my mom made me listen to pop music and my dad made me listen to rock music. So sometimes I would be listening to Justin Timberlake or NSYNC, but then at the same time I would listen to Led Zeppelin and Pink Floyd. When I was in grade five, I remember doing a project on rock music, and it was the first time I heard the band that would inspire me to make rock music with my band, Chair Warriors. That band was Queen, and the song that made me fall in love [with rock music] was Bohemian Rhapsody.

Q: What inspired you to be a musician?
A: So, my first inspiration was my dad. My dad was a drummer when he was younger. He let go of his dreams of being a drummer so that he could start his business and family. So, when he put me into piano lessons, it was like he was passing down to me what he learnt. He wanted to give me the gift of music. My second inspiration was my piano teacher, Jean-Paul. He wasn't just a piano teacher, but a teacher of life. He taught me music by also teaching me about life, and how life is connected to music.

Q: If you could only keep five possessions, what would they be and why?
A: I would keep my piano, my computer, some type of video console (probably my Nintendo Switch), my microphone and…...my phone. Today those would be the things I couldn't live without. I chose those things because they have to do with what I do: sing, produce, connect, play and relax.

Q: What types of places did you first preform in and what was the experience like for you?
A: The first place I performed in was with my band, Chair Warriors. There was a 'Battle of the Bands' at a high school in Montreal. It was my 15th birthday and we made it through to the next round. Other places I have preformed at were Metropolis (my fave place to preform) and on TV for La Voix 5 at Mel's Studio. Starting out as a musician you pretty much play anywhere and everywhere.

Q: What was your experience like on La Voix 5?
A: It was an amazing experience that I can not even begin to explain. It's like having this feeling of happiness but feeling scared at the same time or being excited but nervous.

Q: How did you get started in the music industry?
A: I only got into the music industry recently, after La Voix 5. I met up with a musician/producer, John Nathaniel, who takes songs and makes them into something special. After working with him, I started getting introduced to the music industry for real. Music is a tough business to get into. To succeed you have to live and breathe music.

Q: Did you ever want to just give up?
A: Oh yeah, hahaha…All the time. When you tend to do something for a long time, you start asking yourself, what am I doing this for? Am I doing this for me? Or am I doing this because I want to escape what is happening? It's like playing a videogame. It helps you escape reality and gives you that break you need. Music is sometimes my reality and sometimes my relaxation, and sometimes I don't know if I want to continue or not but at the end of the day I always tell myself I can't give up. My little saying to myself is, "Because I can, I do. If I can't, I'll know. But until then, I'll try."

Q: If you could perform with anyone, who would it be and why?
A: Wow, ummm…The person I would love to perform with would be Freddie Mercury if he was still alive. If I had to choose someone that was alive, it would be Matthew Bellamy (lead singer of Muse, one of my fave groups) or Jared Letto. Or if it was for pop music, I would like to perform with either Katy Perry or The Chain Smokers. They are really cool.

Q: What advice would you give to young people who would like to pursue the same dreams as yours?
A: If I were to give advice, I'd say, if you really want to do music, do it with every extent of your fiber.

Q: Where do you see yourself in five years?
A: I would love to see myself play or open up for someone at the Bell Centre. That has always been on my bucket list.

Q: If you weren't a musician, what would you be doing?
A: I have always thought of that. I have done music all my life, so it's hard to not think about doing it. But if I wasn't a musician, I would like to be a game developer.

Q: Do you play any other types of instruments besides the piano?
A: I have tried other instruments and I have realized that I suck at them, hahaha. I only play the piano and I sing, so I concentrate on playing them as well as I can. I would like to learn how to play the drums though.

Q: How do you get inspired to write music?
A: Everywhere! It depends on the style of music I am writing for. When I am writing pop music, I tend to write more about sappy stuff, like love and the feeling that comes with love. When I'm writing for my alternative rock band, I like to write about anything and everything like political stuff to historical stuff to what's going on in the world.

Q: What do you like to do in your spare time?
A: I like to compose music, play video games and to hang out with my friends. It's very important to me to connect with my friends.

Q: What would be your one super power if you could have one?
A: Ummm…I love Iron Man, so I would like to have a suit like his, fly everywhere and shoot missiles. But I also like Thor and his power with his hammer, just being super strong. So I would like to be either super strong or have all the cool technology.