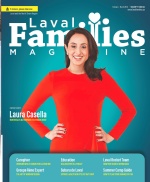 In The Latest Issue:
Latest Issue:
2020 Has Only Just Begun
Laura Casella on Pursuin...
How to Deal with Head Li...
Quality Private High School English Education Right in Your Own Backyard

BY:
Josée Pepin
Issue 31
When Josée Pepin founded North Star Academy Laval over a decade ago, she was responding to the needs of Laval parents looking for high quality private school education close to home. North Star Academy is the only English-language private high school serving the entire north shore, catering to a growing suburban community who want an innovative, safe and engaging high school experience for their children.

Pepin's vision for an English-language private education stemmed from a desire to educate teens in a school with small student-teacher ratios and meaningful programs. Providing a personalized educational experience with on-site afterschool programs and sports teams, tutoring and easy access to teachers, North Star Academy is everything parents could want for their child's education – and right in their own neighbourhood!

"It's a place where each teacher knows each student's name, their family and their strengths and their goals. We work as a team to educate each student, each day," Pepin explains.

Pepin's unique approach to education is what truly resonates with her staff, her students and their families. Well known in local and international communities for their engagement and volunteer work, North Star Academy provides students with endless opportunities to learn from and give back to the community, to make learning meaningful and real for high school students. Pepin believes this factor is critical when working with teens.