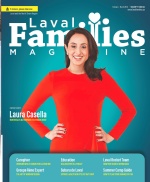 In The Latest Issue:
Latest Issue:
2020 Has Only Just Begun
Laura Casella on Pursuin...
How to Deal with Head Li...
What Makes Sacred Heart the Best School for Laval Families

BY:
Isabel Brinck
Issue 31
As you may have read recently in Laval media, enrollment at Sacred Heart has increased for the third consecutive year. Due to Laval's explosion in population growth, it is no surprise that Laval families form an even larger proportion of students at The Sacred Heart School of Montreal.

"We have an increasing number of students from various backgrounds such as the Greek, Italian, Spanish communities coming to us from Laval," explains Head of School, Shawn O'Donnell. "They are telling their friends how much they love the school!"

Growth at Sacred Heart, however, does not equal larger class sizes. The school maintains a ratio of 6 students to every faculty member, and small class sizes, so that each student can receive individualized attention.

Values-Based Education
As the only all-girls, English Catholic high school in Montreal, with a mission to nurture the mind, body and spirit of each student in a supportive and caring environment, Sacred Heart is the natural fit for families that believe in values-based education. Some of those values, shared by Sacred Heart schools around the world, include deep respect for the religions of the world; teaching strategies that recognize the individual needs of every student; a lifelong commitment to service; a safe and welcoming environment in which each person is valued, cared for and respected; and a place where all members of the school community show respect, acceptance and concern for themselves and others.

Private Bus from Laval
Following a survey of parents at the school, Sacred Heart concluded that a dedicated bus route to Laval and St-Laurent was no longer a luxury, but a necessity. For this reason, and due to increased demand, Sacred Heart became the first Montreal school to offer this transportation service to Laval families. The bus carries only Sacred Heart students, on a three stop route, to and from the school.

Tuition and Financial Aid
In order to maintain economic diversity at the school, Sacred Heart offers a robust financial aid program. The school awarded $315,000 in bursaries in 2017-2018, to 25 per cent of families. The average bursary was $6,000. This financial support is made possible through the generosity of current and past families, alumnae, faculty and staff, and friends of Sacred Heart.

Grade 12
As of August 2019, The Sacred Heart School of Montreal will become the first all-girls school in Montreal, and one of a select few high schools in the entire province, to offer a Grade 12 program. Students will be able to choose between a Commerce and a Science stream. Girls must have completed Grade 11, but do not require a Certificate of English Eligibility to attend. At the end of the one-year, full-time program, students will receive a Grade 12 diploma (OSSD) from the Ontario Ministry of Education, enabling them to apply to universities in Quebec, other Canadian provinces, the United States, and abroad.