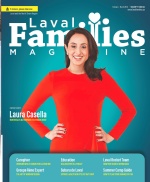 In The Latest Issue:
Latest Issue:
2020 Has Only Just Begun
Laura Casella on Pursuin...
How to Deal with Head Li...
Soccer Stars from Rosemere High School Pursue Their Dream!

BY:
Rosemere High School
Issue 9
The Rosemere High School Soccer Concentration Program led by both Andy Walker and Ryan Boutara who are also teachers, coaches and mentors, make sure students are aware of the order of their priorities: Academics, Citizenship, and Soccer.

Nicolas St-Pierre and Tomasso Iuliani Saragosa are two twelve-year-old students from Rosemere High who excel in all three areas.

Tomasso is such a talented soccer player that he is often compared to Pavel Nedved, the famous Juventus player. He is so gifted that he's already attracted the attention of some of the world's most renowned European clubs — Genova, AS Roma, Juventus and Spezia — where he has attended tryouts and professional youth teams soccer clubs. During these tryouts AS Roma Club youth system discovered Tomasso and implemented a typical European training system that runs all year round. Tomasso often goes back to Europe to train.

Mr. Andy Walker, Tomasso's coach, has helped him improved in so many aspects of the game as well as personal growth. Tomasso feels very fortunate for the full support he gets from school administrators and teachers.

Tomasso and his family are going to Italy to kick more soccer balls — and possibly join an Italian club, with the hopes of Tomasso becoming a professional soccer player in the future.

Nicolas St-Pierre's hard work and determination took him to the metropolis of Dubai to meet the Secretary of State and play against Kenya, England, and UAE, only 15 months after having joined the team.

Nicolas has always been a hard-working student. His perseverance and dedication from an early age earned him numerous awards, recognition and scholarships in elementary school. Once in high school, Nicolas discovered a complete commitment to his own success through the rules and regulations of the Rosemere High School Soccer Concentration: academics, first and foremost, is his focus.

Nicolas has flourished and become a better student and a responsible athlete. His efforts have been rewarded, most recently winning first place in a provincial public speaking competition in French, and last year, being recognized for his accelerated and outstanding athletic development. It described him as a true team player and captain.

Now with Coach Eduardo Sebrango, former Impact player and Technical Director of ACP, Nicolas is surrounded with dedicated, professional level coaches and mentors, pushing him towards the next level.

Hopefully the success of these two youngsters will set an example and inspire others to pursue their goals in order to achieve success in the future.