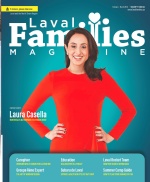 In The Latest Issue:
Latest Issue:
2020 Has Only Just Begun
Laura Casella on Pursuin...
How to Deal with Head Li...
Jules Verne Elementary community BBQ and Music Festival

BY:
Jonathan Schwartz
Wednesday June 15th, 2016. Jules Verne Elementary had its first ever community BBQ/Music Festival event. Organised in association with the Jules Verne Home and School Association, the event gathered 600 friends and family members for food, fun and of course music.

Ms. Amanda, the school music teacher, spent weeks preparing the students for their performances and they we fantastic. The BBQ, which preceded the music festival, went off without a hitch thanks in large part to the numerous volunteers and donations that the Home and School Association was able to put together. A&W Carrefour Laval (hamburgers, plates) and Piccola Gioia Catering (BBQ) were two of the main sponsors that helped make this event such a success.

City councillor Paulo Galati as well as Dan-Michaël Abécassis political attaché to MNA Saul Polo, were on hand to partake in the community event.

The Jules Verne community atmosphere is one that rivals the best of them. This school of less than 250 students is considered to be one of the few bilingual schools in the Laval area and judging from the parent/teacher collaboration seen during this event, it will be one of the most in demand schools in the coming years.