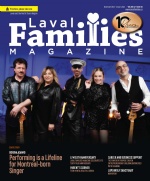 In The Latest Issue:
Latest Issue:
Welcoming 2024
Performing is a lifeline...
Laval Families Magazine ...
The 'Accidental' TV Star
BY:
Lisa Cipriani
Issue 26
The words ambitious and captivating may very well describe her, but they cannot begin to accurately depict the soul and depth of Catherine Verdon-Diamond, a woman of strength and seemingly limitless dynamo. As Breakfast Television Montreal's traffic and weather reporter, Verdon-Diamond's career trajectory is surprisingly uncommon, and her life story even more so.

Born in Montreal but with a childhood that spanned multiple continents, Verdon-Diamond finally settled on Laval to raise her family with her husband, Dwayne Diamond. With a daily grind that starts at 3;30 a.m., this mom of two boys switches from 'performer mode' to 'mom mode' on the regular. If being on television and hosting largescale community events in and around Montreal wasn't exceptional enough, a bubbly Verdon-Diamond reminds us that judging a book by its cover is always a losing proposition.

In the spirit of International Women's Day on March 8th, and National Women's History Month also in March, Verdon-Diamond sits down with Laval Families Magazine to talk family, motherhood, careers and life-changing moments.

1970's Suburbia
At just seven months old, Verdon-Diamond was adopted by André and Louise Verdon, a couple who had been desperately trying to conceive a child for more than a decade. The myriad events that transpired after that moment played a large role in the fabric of her childhood and teen years. The proverbial elephant in the room at that time was the simple fact that André and Louise were a white Québécois couple, and in the south-shore suburbia of the 1970's, they attracted a lot of curious attention with their adopted daughter.

"My mom [Louise Verdon] had always wanted to adopt a black baby," says Verdon-Diamond. "She had been on a list for quite some time, and then, from one day to the next, she got a phone call that a baby was available."

Shortly after Verdon-Diamond's adoption, André and Louise were determined to adopt again, but this time, André was going to take a bold step into the unknown. He spent two months in Haiti looking for a second daughter to adopt. He finally found her, a malnourished orphan, and the couple named her Christine. "My sister only spoke Créole at the time, so my parents could only really communicate with her through signing," says Verdon-Diamond.

Multi-Cultural Education
The family soon moved to Egypt—a work transfer for André—and they lived there for three and half years. "I didn't know how to speak English, but I had to attend an English school in Egypt," she says. To help the family prepare, they were enrolled in a program in Colorado for three months to learn some English before making their way to Egypt.

Verdon-Diamond has fond memories of her time there, and despite the cultural changes, she says that her elementary school days were pretty ordinary; friends, sleepovers, birthday parties…except for the camel-riding in the dessert, that is.

After a brief return to the suburbs of St-Hubert, the family then made another big move—this time to Israel, just as Verdon-Diamond was ready to begin high school.

While abroad, Verdon-Diamond and her sister Christine studied at an American International School, excelling in school and sports. Family vacations during those years took place in France, Greece and Dubai, to name a few. One could say that as a teen, Verdon-Diamond already qualified as a world traveller.

For her final year of high school, Verdon-Diamond attended Westmount High School in Montreal. While attending CEGEP, Verdon-Diamond lived in a Montreal-area condo with her sister, until Christine passed away from epilepsy in her sleep in 1996. Verdon-Diamond also lost her father to cancer in late 2016.

It was during the difficult time following her sister's death that Verdon-Diamond's relationship with Dwayne Diamond began to deepen, and the couple lived in LaSalle for three years before making a move to Sainte-Dorothée. Following their marriage (they recently celebrated their 11th wedding anniversary), Verdon-Diamond and her family finally settled in Fabreville.

Finding Her Way to TV
Though she began university with the intention of becoming a Math teacher, Verdon-Diamond ended up spending some time working as an educator in a daycare, but it just didn't feel right. She soon found an opportunity working at a large telecom company, moving from customer service to administration, where she stayed for a total of eight years. Still, it didn't feel right.

Like many first-time mothers, Verdon-Diamond struggled to find her career niche in the corporate world after giving birth to her sons Jayden, now 12, and Justin, now 10. She dabbled in a few different jobs in clothing retail and textiles, but again, nothing felt right. She couldn't shake the feeling that she was supposed to be in entertainment, specifically on TV.

While running an errand for her boss at the textile company, Verdon-Diamond spotted a job posting for a company called Cineflix Media. On a whim, she applied to work there as an executive assistant. She got the job and worked there for about two years, but still, she couldn't shake the nagging feeling that it wasn't where she was supposed to be.

With the intention of taking a year off to figure things out, she left Cineflix, but soon after happened upon an ad for a job at CBC, as an assistant to the news director. When she was called for an interview, she originally wanted to decline the offer, afraid that she would find herself in the same disenchanted state as so many times before, but since the posting was for a 12-month replacement contract, she gingerly accepted. "I told myself, okay, I can do this for a year and then figure out what I really want to do," says Verdon-Diamond.

Following a comedic YouTube video Verdon-Diamond made with a friend during this period, instead of firing her (which is what she thought was going to happen), her boss at CBC, Shelagh Kinch, ended up offering her a replacement contract to report the weather on TV! Though she had always wanted to be on TV, this is not what Verdon-Diamond had in mind, and tried to decline. Kinch wouldn't take no for answer, and within days, Verdon-Diamond was on the air! "I was a disaster at first," laughed Verdon-Diamond. "My voice was shaking because I was so nervous, I would point to East and West in the wrong direction […] but then one day, I just decided to keep it simple and just talk about what I know…and for the first time, I got through it!"

As she got more comfortable on camera, she was offered the 11 pm weather position, and the rest, as they say, is history…or was it?

A 'Suspicious' E-Mail
Out of the blue, Verdon-Diamond received an e-mail from a man named Bob Babinski, who said he was starting up a new television station in Montreal called City TV, and wanted to talk to her about joining the team. As she didn't know many people in the world of journalism and media, Verdon-Diamond had no idea that Babinski was a bonafide television personality, a former CBC sportscaster and producer. She ignored the e-mail. "I thought it was a prank," admits Verdon-Diamond sheepishly. Once she found out who Babinski was, she then answered the e-mail out of curiosity.

Babinski offered her the job, and she has been on air with City's Breakfast Television ever since. She had finally found her niche, and now, in addition to her traffic and weather reports, she has her own segment called Mom Talk, which airs every Thursday morning.

"I wouldn't be on TV if it wasn't for Shelagh Kinch and Bob Babinski, who both believed in me," says Verdon-Diamond. Now that she's been in her current post for a few years, Verdon-Diamond says she is so grateful for her team at Breakfast Television. "I learn so much from them…they are so good at what they do because they're professional, and once I was surrounded by them, I had no choice but to get better and grow with them, and I'm so thankful for that," she says.

Her colleagues are just as appreciative of her as she is of them. "She has this infectious enthusiasm, and you quickly realize that the Catherine you meet in person is the same Catherine you see on TV," says Derick Fage, co-host of Breakfast Television. "She's such an honest person, and she shares a lot of personal stories, which is a rare thing in media…She doesn't hold back, and I appreciate that so much."

Same son de cloche from Elias Makos, Breakfast Television's technology and social media commentator. "What a superstar and a warm, very open individual," he says. "When the lights go on and the camera is rolling…she just gets it! She gets live TV."

Outside of her role as a television personality, her colleagues speak of her warmly as a colleague and friend. "When it comes to a role model for women, and even for how families should be built, what more can you ask for than Catherine Verdon-Diamond?" asks Makos.

Mom Life
Besides being the mom that gets recognized in the grocery store or just about anywhere, Verdon-Diamond has some unconventional lifestyle habits that come part and parcel with a job in early morning television. While most moms look forward to a few quiet hours after their kids go to bed, Verdon-Diamond is preparing to catch her zzz's at the same time as Jayden and Justin. "My husband tucks the boys in, and then he comes to tuck me in!" laughs Verdon-Diamond. 3;30 am rolls around pretty fast, and she makes her commute to Breakfast Television Montreal's studios for hair, makeup and research before the director calls "Action!".

Though her work schedule may be a little different than most, Verdon-Diamond still makes plenty of time for just being a mom to her two boys. After catching a quick nap during the day following several hours of being on live television, she's up and ready to spend time with her kids when they get home from school, including two of her friend's children that she babysits in the after-school period.

Weekends are for family time and the boys' sports or music activities. "I love Laval," says Verdon-Diamond. "It has everything we need as a family—it's all right here."

While viewers may assume that TV personalities are one-dimensional or have predictable life stories, Verdon-Diamond proves this is just not true. She also helps us believe in the magic of serendipity, while also toying with the idea of destiny. Are we sometimes just in the right place at the right time, or are there no accidents in life, and everything happens for a reason? With Verdon-Diamond's track record to date, the answer could very well be both.