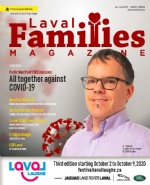 In The Latest Issue:
Latest Issue:
Four Little Words Have N...
An Unprecedented Public ...
Because a Little Laughte...
Innovative Preschool Experience

BY:
Joanna Colida
Issue 26
The newly opened Academie de l'enfance (ADE) is a unique preschool and child development centre.

ADE and its team of early childhood professionals have developed an innovative research-based Early Learning and Pre-Kindergarten program for children 18 months to 5 years old. The centre offers a full-day preschool program, specialized services for children with special needs, and a unique summer camp concept.

The brand new centre is conveniently located minutes from the Sainte-Dorothée train station and highways 13 & 440. Inspired by Scandinavian ideals in early childhood education, classrooms have been designed to promote exploration, leading to a natural learning environment.

ADE is currently accepting new enrollments for the 2018 school year.

The Importance of High Quality Preschool Programs
Preparing your child for kindergarten through a preschool program is essential in ensuring a positive transition into the school system. ADE's pre-kindergarten program is designed around four important learning domains: Pre-Literacy (pre-writing, pre-reading skills and phonolo- gical awareness), STEM (Science, Techno- logy, Engineering and Mathematics), Sensory (Learning naturally through the five senses) and Motor Development (fine & gross). The pro- gram strongly emphasizes bilingual learning in French and English, which is important for a child's success in Quebec society. Also, bilin- gual children are shown to be more flexible in their learning and thinking, they have a better understanding of math and logical concepts, and better self-control–all leading to long-term academic success.

Special Needs Integration in Early Childhood Benefits All
Today, 1 in 6 children in North America are dia- gnosed with a developmental disability.

However, recent research in education shows that inclusive education benefits everyone invol- ved by encouraging social interactions and friendships amongst all children. By doing so, children model positive behaviours, thus setting higher expectations for all children–regardless of disability. For these reasons, ADE provides ongoing training to their educational and support staff. All classrooms are considered inclusive and follow the principles of universal design.

The centre's collaboration with psychologist Dr. Sylvie Bernard allows for children with develop- mental disabilities to obtain necessary evaluations, individualized programs and therapies. The centre offers on-site ABA therapy (Applied Behavioral Intervention), child evaluations, speech therapy and shadowing. These special needs services, provided during regular school hours, will limit disruptions to both a child and parent's daily routine.

Promoting a Healthy Body & Mind in Early Childhood
Childhood is a critical time in developing positive eating habits and gaining exposure to new foods. ADE's philosophy on early childhood education and care is reflected in their kitchen and centre's practices that promote a healthy lifestyle. Menus are carefully crafted using seasonal, local and natural ingredients to provide children with tasty and nutritious meals. ADE is aware of family food preferences or intolerances and addresses this through their organic, gluten-free, and vegan menu options.