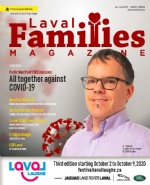 In The Latest Issue:
Latest Issue:
Four Little Words Have N...
An Unprecedented Public ...
Because a Little Laughte...
Festival Laval Laughs Returns for its Second Edition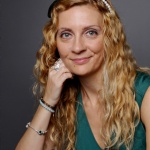 BY:
Lydia Lukidis
Issue 34
Festival Laval Laughs is back for its second edition. Jam-packed with talented, local comedians and diverse programming, it is sure to offer something for everyone. From October 3 to 6, you will be able to laugh at a series of hilarious comedy shows!

Festival Laval Laughs serves one purpose: to make people laugh! With unique cultural jokes, founder Luigi Morabito knew it would be an instant success – which it was!

With the return of several great comedians and a line-up of some fresh new talent, a second edition of this amazing local festival just had to happen. For its second run, Morabito wanted to offer something different. He also consciously chose to support and feature local talent for this year's edition. "I'm very excited to bring great emerging talent, the next comedian superstars of Quebec, to the public," says Morabito. "They will make you laugh so much that it will make you want to come back for more laughs."

The shows will be accessible to Anglophones, Francophones, and all other ethnic groups. This multicultural flavour is one of the elements that defines Laval. Morabito is proud to offer a fully bilingual roster that fosters inclusivity and caters to diverse audiences! In fact, Morabito considers the diversity of the Laval population to be one of its best features – something most residents would be in agreement with! So hosting a comedy show that caters to that unique, multicultural vibe was almost a no-brainer.

The first edition of Festival Laval Laughs was held in 2018 and was a raving success. Audiences and comedians alike were impressed with how smoothly things ran, despite the fact that the festival was brand new. "Last year, in our surveys, more than 90 per cent of the public that went to see one of our comedy shows told us they were more than satisfied," explains Morabito. "We surpassed their expectations in an incredible comedy festival experience." This year, the team had more momentum and were already known in the comedy circuits.

Franco Taddeo, the Director of Programming, booked all the talent. Taddeo is not only the booking agent, he is also a comedian with 20 years of experience. He's an integral part of that world, working alongside other comedians for years. He hand-picked the cream of the crop for this year's edition. Some are established artists, while others are emerging talents, on the brink of stardom. But one thing is for sure: each and every one of them has a missionto connect to audiences and make them laugh.

The festival will include three block- buster shows. It will kick off with the popular Ethnically Correct show on Thursday, October 3. Franco Taddeo will star alongside Pino Pirillo, Darren Henwood, John Cotrocois, Eddy King, and Dini Dimakos. Laval, being a multi-cultural city, will be the perfect audience for these jokes. Be sure to get your tickets early, because this show is sure to sell out again.

Last year, Ethnically Correct was not only the most popular English show, but one of the most diverse. No matter what your background, there issomething absolutely hilarious in it for you. The handpicked comedians participating in this year's event are definitely going to knock your socks off! As long as you aren't easily offended, you will absolutely love this show. Of course, it's only intended for people who are ready to laugh – a lot! No matter which show you attend, you are sure to be blown away by the talent on stage this year. Morabito and the rest of the Festival Laval Laughs teams have always kept one goal in mind: to make people laugh! From start to finish, each of the shows– no matter which language – promises to connect with the audience in a uniquely Lavallois way!

The laughs will continue with the French gala (Gala Laval en Rires) on Friday, October 4. The stage will be shared by Quebec come- dians Melanie Ghanimé, Neev, Frank Grenier, Christine Morency and Mike Paterson, among others. Perhaps one of the most interesting additions to this show is comedian Mike Patterson. When Patterson was first asked to do a French show, he told the organizers his French was terrible. On the contrary, they said that's what would make him a hit. With his unique take on the French language, you can't help but laugh at everything this new dad has to say. The festival will conclude with the Pure Couture show on Saturday, October 5. This spectacular one-woman show, hosted by, Mélanie Couture will wow you with her many talents. Both a comedian and a sexologist, Couture has a lot to say. Brace yourself for some hilarious – and probably outrageous – jokes. Last year, she was the audience's favourite comedian, so it's no surprise Morabito made sure she was back on the roster this year!

This particular show is one amazing part of the entire line-up. Somehow, Couture always finds a way to bring up some of the most delicate topics in a way that is so incredibly funny, you won't be able to sit through the whole show without getting a few laugh cramps!

Festival Laval Laughs will run from October 3 to 6, 2019, so be sure to mark your calendars. All the shows will take place in the intimate setting of Le Cabaret C, located at 1600 Rue Robinson in Laval. Tickets are currently on sale at festivallavallaughs.ca.

Another new addition to this year's event is package pricing. Festival Laval Laughs is all about laughing more, so the more you laugh, the less you pay! If you purchase a passport to two shows, you'll receive a 15% discount on your tickets. If you opt for the three-show passport, you'll save 20% per ticket, per show! That means you can take advantage of the whole festival, laugh your evenings away, and actually save money while you're at it!

Aside from being an event full of laughs, this festival works to bring Laval residents together. At a time of year when there isn't much to do and the weather is starting to remind us that cooler season is on the way, it's nice to get out there and have some real fun! Whether you're a couple looking for a night out, or just in the mood to laugh and have a good time, Festival Laval Laughs this October is the place to be. Plus, the outdoor par- king means you won't be stuck searching for a place to leave the car.

Keep in mind Le Cabaret C is an intimate venue, so tickets are limited. It will be a first come, first served policy. Don't miss out on this once in a lifetime opportunity to enjoy local talents in a warm and inviting atmosphere. Last year's shows sold out in no time, so don't hesitate to reserve your tickets today! As usual, you can expect a night of laughter and fun at the hands of Festival Laval Laughs. Get your tickets– or your passport-saving package – today by visiting the website: festivallavallaughs.ca.