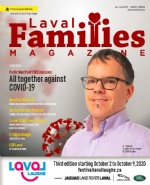 In The Latest Issue:
Latest Issue:
Four Little Words Have N...
An Unprecedented Public ...
Because a Little Laughte...
A Walk to Free Women and Children from Abuse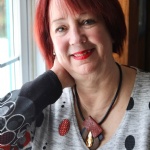 BY:
Lori Leonard
Issue 34
Mary Musumeci and Pâtisserie St-Martin organize this annual event to raise funds and build awareness for abused women and their children. Participants walk through the Laval neighborhood to take a strong stance on behalf of moms and children who are deeply affected by abuse.

The fourth annual Freedom Walk will take place on Sunday, September 8, 2019 at Parc Val des Arbres, 3120 ave. de la Malbaie, Duvernay. Registration will take place at 10:00 a.m. followed by a lively Zumba warm-up. The five-kilometer walk will begin directly after and end up back in the park.

Participants who purchase tickets in advance will be provided with a lunch bag with a delicious sandwich, a fruit, drink and other goodies. For those without tickets, they will be able to purchase food such as pizza, or any number of Pâtisserie St. Martin's delectable cannoli at kiosques on-site.

There will be many family activities such as face painting for children, inflatable games and much more. There will also be raffle tickets sold for some amazing prizes including gourmet baskets.

Last year, more than 1,000 people participated, whether they walked, rolled in a wheelchair, made a contribution or helped in other important ways. The cause is one that is close to Musumeci's heart as she was a single mom herself for many years. She really understands some of the challenges these mothers face. "People should not be so quick to judge others because we are not part of their world and we are unaware of their living conditions," Musumeci says.

Musemeci recalls the funds raised at a previous event helped one mother with four children get back on her feet. These single mothers face safety issues, have difficulty trying to find enough work to keep them afloat to pay their bills and to have sufficient money to purchase healthy food for their family.

Funds raised sometimes help defray costs for mothers or their children to pay for much-needed therapy. Last year the Freedom Walk raised more than $60,000. This year, the three organizations who will be supported financially from funds raised include Maison Lina, Maison Prélude and Maison L'Esther. Pâtisserie St. Martin sincerely cares about others and their community and have also raised and donated funds to help Hôpital Ste. Justine, the Montreal Children's Hospital and Light the Night, to name just a few.

This year, tickets will cost $30 and will be available for sale between July 1 and September 7, 2019. Tickets may be purchased directly at Pâtisserie St. Martin, 2495 Boulevard St. Martin in Laval or online at eventbrite.ca. For more information on this event, you may also visit Pâtisserie St. Martin's Facebook or Instagram pages.