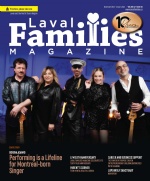 In The Latest Issue:
Latest Issue:
Welcoming 2024
Performing is a lifeline...
Laval Families Magazine ...
Laura Casella on Pursuing Dreams and Developing Perseverance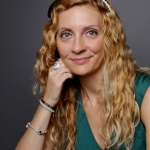 BY:
Lydia Lukidis
Issue 36
Perseverance comes naturally for Laura Casella. Whether it was not getting accepted into journalism school or working 18-hour days, she had to persevere. And that's a good thing. She gets to live her dream and Montreal audiences get to watch her every morning on Global News Morning. Casella has now become synonymous with quality Anglophone programming.

Early Aspirations
Raised in Saint-Leonard, Casella grew up in a traditional Italian household. She vividly recalls her grandmother's homemade food, and would often wake up to the smell of fresh tomato sauce brewing. Sunday lunches were loud and chaotic, in true Italian style, yet it was a beautiful chaos.

The youngest of four children, Casella was the baby of the family. Her childhood was filled with happy memories. Fast forward a few decades, her siblings started families of their own. Her parents are still together and live in the same house she grew up in. Now that Casella has her own children, it's a pleasure to see them create new memories in that same house.

In terms of her aspirations in life, Casella had one dream in mind and never wavered. "From a very young age, I always aspired to be a talk show host," she says. "I distinctly remember doing a project for school and creating a talk show host character. It was called the Peggy White Show!" She remembers watching Oprah Winfrey on television and studying her interviewing skills, and wanting to emulate them.

On Following Her Dreams
So it came as no surprise when Casella announced she wanted to pursue journalism. At first, her father was concerned about the challenges of the media industry, but Casella was resolute. He accepted her decision and supported her, as did the rest of her family.

She knew pursuing journalism would be tough, but that's what had always been in her heart. She applied to the journalism program at Concordia University. Much to her dismay, she didn't get accepted and was placed on the waiting list. Destiny was on her side because shortly after, Concordia phoned to notify her that a space had been vacated, and was now hers.

During her years studying at Concordia, Casella kept busy with jobs related to journalism. She began to write for Panoram Italia Magazine, an Italian lifestyle magazine. During her third year, she landed an internship at CJAD. This eventually turned into a paid position. She remained at CJAD for several years as a freelance reporter and overnight newscaster.

A Foot in the Door
Casella was living the dream. Here she was, a real reporter on live television. But her new job came with its own set of challenges and she wound up working long hours on weeknights and weekends. She told herself this was part of the game. If you want to make it in this industry, you have to make certain sacrifices, she thought.

Her efforts were not in vain. She soon landed her first full-time job producing The Tommy Schnurmacher Show on CJAD. Looking back, Casella feels grateful to have had that opportunity. She learned a lot from Schnurmacher, a veteran of radio.

But as much as she loved radio, she wanted to spread her wings and begin her adventures in television. She was thrilled when she landed a freelance job in morning television at CTV. The hours were gruelling; from 4 a.m. to 1 p.m. every weekday, but that didn't faze her. She took this job on while continuing to work at CJAD. It made for an intense schedule with little free time. After this, Casella got a job as co-host and anchor at Breakfast Television.

Life at Global Television
Two years later, she got a call from Global News Morning, a community-based Montreal show. An anchor had left and they wanted Casella to take the spot. Cut to today, she's been doing the live morning show from 6 a.m. to 9 a.m. since 2016. The job description couldn't be any more ideal. "I've always been a curious person," says Casella. "And I think that's the root of being a good journalist. It's about wanting to connect with people and know more."

For Casella, being on television comes naturally. That level of comfort and authenticity translates to the guests. She says the biggest compliment she can receive as a host is when people tell her how comfortable she makes them feel. Some may be nervous or apprehensive at first, but by the end of the interview, they feel at ease. Casella enjoys nurturing this connection and has a talent for helping others open up. She approaches each interview with personal care and makes a point to introduce herself to the guests before the show to build a connection.

The show highlights the many voices that make up the Anglophone community, and focuses on community-based stories. It can range from hard-hitting news to weather and traffic. The show also features success stories as well as people, including children, doing amazing things in their community. The goal is to inform the public, but also to entertain, enlighten and inspire. "The atmosphere here at Global is like one big family," says Casella. "It's so positive and every day, we strive to put on the best show possible."

The Challenges of Live Television
But it's not all rainbows and unicorns. "Working in television is not always easy," admits Casella. "If you're going to do this job, you need to love what you do!" The work can be mentally and physically exhausting. The early call times at 3 a.m. also take a toll on the body.

Casella goes on to confess that she's not a morning person. Her innate drive keeps her going. Coffee also helps.

Yet Casella wouldn't trade her job for anything in the world. She loves doing live television, and in fact thrives on it. There's a certain magic when you're completely immersed in the moment. It encapsulates both an authenticity and a vulnerability. If you fumble, or if something unexpected happens, you have to keep going and just go with the flow. Life can be unpredictable and it's that imperfection that helps the audience connect. People prefer to see real and natural dialogue.

Family Life
On top of her demanding work schedule, Casella is also a mother. Her daughter Ella is four years old and her youngest daughter, Gia, is six months old. She lives with her husband and children in Laval. When asked how she maintains balance, she has a very practical answer; namely, that having perfect balance in all moments is not realistic. You can only do your best. Casella, who was severely sleep deprived, held her baby in her arms for our entire hour-long interview. Like many other mothers, she's a master at multi-tasking.

She recalls her first maternity leave. She bounced back to work after only 10 months, itching to get behind the camera. But with her second maternity leave, she's in less of a rush. Though caring for a toddler and a baby can be exhausting, Casella is enjoying it more. She's conscious of the fact that her youngest will be her last child, and this helps her relish each moment fully.

Casella admits that she sometimes suffers from mom guilt, especially when she tries to carve out some time for herself. Parents naturally want to make sure their children are happy and have everything they need. Too much mom guilt doesn't help anyone. Luckily, Casella has a great support system including her husband and close family. "I absolutely love my job and it gives me great joy," she says. "But at the same time, spending time with my family is my biggest treasure. It's important to find ways to maintain that time."

Life Philosophies
Becoming a mother, twice, has certainly changed Casella both as a woman and as a host. For one thing, it helps her develop more empathy and sensitivity towards others. One of her goals as a parent is to instil a sense of gratitude in her children. She wants them to be kind and empathetic both with themselves and others. "I want to be a positive role model for my children," says Casella. "It's important to help them cultivate compassion and empathy towards others."

Another notable change motherhood brought was that while on maternity leave, she watched more television. She saw things from the viewers' perspective and formed a new understanding of the news and talk shows. In addition, she feels she's become more well-rounded. For instance, she can now discuss children and parenthood, which were issues she couldn't relate to before. Now that she's more experienced and knowledgeable, she feels a deeper connection to her audience. This in turn is felt by the audience, and is the reason why so many gravitate towards her.