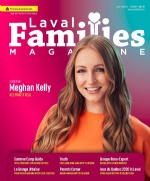 In The Latest Issue:
Latest Issue:
When Passion and Innovat...
The Season of Renewal an...
Keeping it Real with Meg...
AGOO - A Center for Children Built from the Heart

BY:
Dr. Tina Sampalis
Issue 6
As a mother and as a physician, children's health and wellness are my priority. The idea of creating a health center like Agoo had been on my mind since I was in medical school. Originally, I planned a center for women, but after my son's birth in 2009, I decided that children need it more; implementing a different approach to treating children while offering complete care for them, would best serve my community and fulfill my oath to medicine.
Agoo is a state-of-the-art center that offers a fun and friendly environment to children and adolescents from birth to 18 years, and a unique experience to parents. Your time and comfort are important to us. During the very short waiting time, we offer play areas in well-separated waiting rooms for healthy and sick children. Rest assured that we are taking all measures to avoid going home with a new germ or virus.

Examining rooms have different fun motif that put patients at ease while our doctors examine them and discuss with the parents, respond to all their questions and address their concerns. Agoo offers your child the best care possible and to you, the parent, they information you need to make the right decisions and feel at ease. No more long waiting time for rushed examinations and unanswered questions; these are all in the past once you join the Agoo family and soon establish a long-term rapport with our healthcare professionals.

Although children enjoy their visit at Agoo and tend to forget they are at the doctor's, we are very serious about your child's health. We don't just treat the disease; we treat the cause, symptoms, and overall implications that stem from it. We bring the experts to you; forget long waiting lists and running from one clinic to the next. Our team of experts, including family medicine, pediatricians, endocrinologists, obesity team, dermatologists, psychologists, speech therapists, occupational therapists, nutritionists, parental guidance experts, fitness instructors, self-defense instructors, baby planners, doulas, mother's aid, even healthy cooking instructors, and so much more, are all here ready and happy to serve you.

We form advisory committees composed of our experts and any required expertise around the world to discuss special cases in order to offer state-of-the-art care. Our team of researchers headed by my brother, Dr. John Sampalis, tenured professor of McGill University and world renowned epidemiologist, is working hard to bring to us the best evidence based care medicine can offer. We all come together and discuss your child's needs and design a unique plan customized only to your child.

Agoo's mission is to foster and maintain wellness of children and their families through prevention and treatment of any condition that may impact on their physical, emotional, and psychosocial health.

Your children's health and wellness is priceless and our priority!