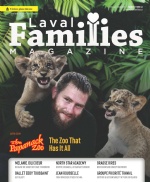 In The Latest Issue:
Latest Issue:
Exploring Alternatives &...
The Zoo That Has it All
Because We Might Not Hav...
Brighter Days Ahead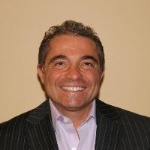 BY:
Luigi Morabito
Issue 43
As we move into the summer season, we can look forward to brighter and warmer days to soak up the sunshine and fresh air. In this issue of Laval Families Magazine, our two cover stories give you plenty of opportunity to get outside and get active.
If you haven't already heard, Decathlon has opened a megastore in Laval and is quickly becoming the go-to spot for sports activity and equipment of all sorts. More than just a store, Decathlon offers on-site physical activity and an online community to find activities that suit everyone's needs and levels. Read about the company's European history and international presence, starting on page 8.
If you're looking for some family-friendly outdoor fun and exploring, check out our other feature story about Miller Zoo! Starting on page 51, find out how Miller Zoo got its start and how the owners went from rescuing a young doe to now having a full-fledged zoo that receives tens of thousands of visitors a year!
If you or someone you know is looking to get back into the workforce or get a fresh start, be sure to check out the article on page 20 to learn more about Groupe Priorité Travail's Job Search Club in Laval. Or, if you're an entrepreneur looking to embark on business ownership, be sure to check out the article on page 31 for solid advice from YES Employment + Entrepreneurship about buying an existing business. Learn about the pros and cons and gain some helpful insights.
If you already own a business or are just starting out, your marketing strategy might need a helping hand from IND Films, a local company specializing in video production and marketing videos. Learn about the company and its Emmy-nominated founder on page 23.
Despite the 2020-2021 school year coming to a close, it's never too early to start thinking about the upcoming school year. Collège Sainte Anne offers three French-language levels of education: elementary, high school and CEGEP. A brand new state-of-the-art high school will be opening its doors in Dorval in August 2022, and admissions will begin as of August 2021! Find out more on page 17.
While we all hope this summer will allow us to safely enjoy time with friends and family, it's important to stay informed on the evolution of the pandemic and the sanitary measures in place. Stay informed by consulting page 35 and pages 40-41. Learn about the vaccination rollouts and more about the vaccine itself.
Wishing you and your loved ones a safe, healthy, and joyful summer period!