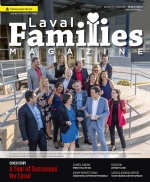 In The Latest Issue:
Latest Issue:
Innovation Across the Ci...
A Year of Successes for ...
To Start a Business, Sta...
Feeding Mommy First

BY:
Issue 8
As new moms, we spend a great deal of time obsessing over feeding our children. When they are infants so much of our time is spent focused on whether they are getting enough milk, and putting on enough weight.

When first foods are introduced, we want to make sure they are given in the right order, homemade and pure. As they get older, we want them to eat their fruits and veggies and have a full breakfast before heading out the door. So much time and energy focused on feeding our kids – do we ever stop and take a look at how we are feeding ourselves?

Being a new mom is a crazy, hectic time with many physical and emotional changes. These changes can seem much harder than necessary if we are not fueling our bodies right. I compare it with the advice you get from the flight attendant before taking off; put the oxygen mask on yourself before your children. Of course we need to look after our kids in the best way possible, but that starts with looking after number one.

I know first-hand and from speaking with other moms, that finding time to sit down for three square meals a day with a baby in tow seems like a fantasy. I remember a friend recounting how she lived on spoonfuls of peanut butter for days on end because she couldn't put her newborn down. But the fact of the matter is that we need proper nutrition to get through the early days. Your body will have a lot of repair to do from delivery. This combined with the extra exertion of caring for a baby and the whopping 500 calories spent per day if you are breastfeeding, adds up to more than a few spoons of Skippy!

It is not only in the early days that we need to focus on eating well. Don't underestimate just how much your young children may take notice of your habits. We may be begging them to finish all the organic broccoli and quinoa from their plates, but if they see us living off coffee and their leftover crust, what kind of example are we setting? Let your children see you enjoying mealtime instead of hovering and shoveling! If they get used to seeing a balanced plate and the whole family seated together, the good habits will eventually be inherited.

I'll leave you with a few quick and nutritious ideas to fuel a busy mom (and most can be eaten with one hand!);

A smoothie made with Greek yogurt, frozen fruit and uncooked oats
A whole-wheat tortilla filled with nut butter and a banana
Hummus with pre-washed, pre-cut veggies
A handful of nuts and an apple
A bowl of cereal topped with berries and milk at any time of day
Robin Glance is a registered dietitian from the MUHC. She has a private practice in the West-Island, specializing in weight management and family nutrition. She can be reached through her website, RobinGlanceNutrition.com, or for interesting facts, articles and recipes follow her at www.facebook.com/robinglancenutrition.