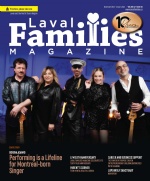 In The Latest Issue:
Latest Issue:
Welcoming 2024
Performing is a lifeline...
Laval Families Magazine ...
Laval Completes Planting of New Urban Forest at Centre de la Nature
Residents can adopt a tree
BY:
Valentina Basilicata
Issue 17
City officials, partners, and sponsors inaugurated a new forest at Centre de la Nature on September 22 as part of Laval's yearlong 50th anniversary celebration.

"Thanks to this project, we are demonstrating the importance we place on trees in the City of Laval by offering Laval residents a quality green space," stated Mayor Marc Desmers in an official press release.

"We'd like to thank the TD Friends of the Environment Foundation for its generous contribution of $25,000 for landscaping the paths that will allow citizens to enjoy activities like hiking and cross-country skiing, among others."

Visitors will be able to stroll a 400-metre path connecting the five ecosystems within the forest year-round. Laval residents can also adopt some of the newly planted trees by filling out a form at http;//375000arbres.org/laval-adoptez-votre-foret/.

More than 10,000 trees and shrubs were planted over three acres of land at the park between April and September 2015.

Students from the Centre de formation horticole de Laval and horticulturalists from Jour de la Terre Québec began planting on Earth Day this spring. Other project supporters included the Fondation Cowboys Fringants and the David Suzuki Foundation. The forest represents a total investment of nearly $250,000.

Paolo Galati, municipal councilor for Saint-Vincent-de-Paul, attended the ribbon cutting ceremony along with representatives from each foundation.He explained that in as little as six years, the small saplings will give way to a sprawling canopy.

"Centre de la Nature is our Central Park. It's unbelievable that we have… a park of this magnitude in Laval. Having the urban forest just adds to the incredible features this park has," stated Galati.

According to Galati, projections show Laval will be the second most populated city in the province by 2020. Despite the ever-increasing population, city hall strives to keep Laval green, rural and modern through various urban planning projects.

"We are trying to keep that nice balance," said Galati.

For Gilles Desjardins, director of the Centre de formation horticole de Laval, the 50th anniversary forest project represented his school's biggest community undertaking to date.
He pointed out that in the future, his students can proudly bring their children and grandchildren to see the forest they helped take root.

"It's a nice legacy," beamed Desjardins.

This green initiative was in line with the 375th anniversary of Montreal's founding and its program that seeks to plant 375,000 trees in and around the city.

Jour de la Terre Québec, the David Suzuki Foundation and the Fondation Cowboys Fringants originally launched the project in Montreal with support from the Government of Quebec.