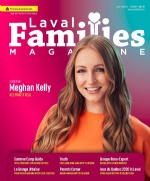 In The Latest Issue:
Latest Issue:
When Passion and Innovat...
The Season of Renewal an...
Keeping it Real with Meg...
Meet Stéphane Tétreault
BY:
Orchestre Symphonique de Laval
Issue 22
Stéphane Tétreault, a 22-year-old cellist, is the guest soloist with the Orchestre symphonique de Laval on April 19th, at Salle André-Mathieu.

Here's a brief Q & A with this prolific musician.

What does playing with the Orchestre symphonique de Laval represent for you?
Playing with the Orchestre symphonique de Laval is always a great pleasure, not only because the Orchestra is great and the maestro is fantastic, but also because it is for me an opportunity to meet friends like Antoine Bareil, solo violinist.

You will be a playing Chostakivitch's 1st Cello Concerto- What challenges does this present?
It is a monumental work as much for a cellist as for an orchestra. Interpreting this concerto requires as much energy and emotional depth as it does knowledge of the context in which it was composed. We will experience a rich moment of emotion; deep and remarkable.

You play on a Stradivarius from 1707. What difference does an instrument of such quality create for the audience?
This Stradivarius projects very well, it allows to create a wide range of colors, perceptible all the way to the bottom of the theater. It is essential to interpret Shostakovich because his works have an important sound volume.

You started making music around the age of five. What did it mean to you as a child?
At school, we played the xylophone, we did theater, we sang in a choir and so on! Being exposed to music, regardless of the genre, helps to develop creativity, discipline and open-mindedness. At first I thought of music as a hobby. It was thanks to my master that around the age of 9, it became a passion and I knew that I wanted to do that all my life.

For tickets, please visit the Orchestra website at osl.qc.ca or call 450 978-3666.