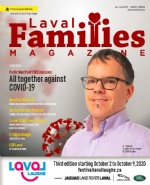 In The Latest Issue:
Latest Issue:
Four Little Words Have N...
An Unprecedented Public ...
Because a Little Laughte...
The Best Learning Can Be Achieved without Effort
BY:
Lisa Cipriani
Issue 25
Pré-Maternelle Trotte-Menue is a private preschool for 3 to 5-year-old children, situated in Laval since 1993. The preschool is located in a secure environment in a private educational building, which offers a gymnasium, a cafeteria, a large fenced green space and schoolyard.

The founder, Bessie Papanayotou (Miss Bessie), created this preschool after completing a Ph.D. in psychology and studying at Ecole de Psycho-éducation at Université de Montréal. Offering an innovative preschool alternative program, this multi-activity curriculum is designed specifically for children who are ready to take the next step in the learning process. Miss Bessie says her mission is to inspire and stimulate young minds and prepare them for kindergarten and beyond.

The Trotte-Menue philosophy is centered around four key words: celebrate, validate, inspire, and educate! The program alternates teacher-directed formal instruction with child-directed exploration and play. The teachers guide, stimulate, and encourage children to do more. Their reward is the smile on the children's face when they are challenged and succeed!

Miss Bessie believes that in order to actively participate in today's global community, children have to be encouraged to be resourceful, responsible and respectful. Developing the ability to create, collaborate, communicate, and use critical thinking is an important part of the Trotte-Menue curriculum. Teachers help the children to become independent learners by encouraging them to solve problems and find solutions to simple obstacles on their own or by interacting with others. Incorporating creative arts, drama, music and physical education rounds out the curriculum thereby providing a global and stimulating learning environment.

A child's developmental stage is very different between the ages of three and four years old. For this reason, we have separate classes for these two ages groups, and our programs are age appropriate.

Program Options
There are several program options available for 3-5-year-olds: in French (three half days a week), in English (two half days) or bilingual (five half days). Classes are offered in the morning and in the afternoon. Les Ateliers de l'Académie offers a parallel full day preschool program from 9:00 – 3:00 (limited places available).

Full advantage can be taken of all allowable federal and provincial refundable tax credits (provincial tax credit is between 26 per cent and 75 per cent).

New Parent-Child Program for 2 to 3-Year-Olds
Parent-child classes meet two half-days a week for a series of enjoyable activities guided by one of the teachers. This program provides the parent and child with an opportunity to be part of a social group. The program includes story time, music and movement, and a group craft activity. This playful approach encourages your child to feel secure at Pré-Maternelle Trotte-Menue and to develop a positive attitude for his or her first school experience.

Our Philosophy
Miss Bessie believes that the best learning can be achieved without effort. "We strive each day to be the best provider of early childhood education in the community," she says.